Malagash &amp Area Heritage Society Museum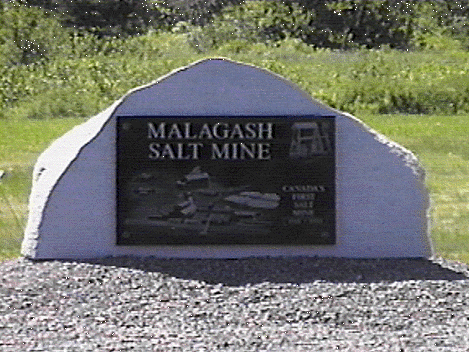 "Malagash"
Mi'Kmaq word meaning
"a place of games
"first rock salt mine" in Canada- running 41 years 1918-1959
Peter Murray of North Sore Malagash NS in 1900's was a farmer. Peter was looking for fresh water for his cattle and he had drilled between 20 - 25 wells and never found fresh water. He did, however, find salt water.

He gave up his search for freash water and made the best of his salt water, using it to pickle pork, fish, or whatever needed pickling.

In 1917, he leased his land to two men from New Glasgow NS. One was a mining man and the other a business man. Together, in 1918, they sunk a shaft on dominion day and came up with the first salt in Canada on labour day thus making Malagash the site of the "first rock salt mine" in Canada - running 41 years 1918-1959. A very primitive means of mining was established. The museum covers mining, including a nine minute video called "1941 Underground in Malagash, done in Malagash and Pugwash where the salt mine is still today.

The museum also contains and covers
the natural and social history of this area.
a gift shop on site.
wheel chair accessibility.
lots of parking
browse on your own or get a guided tour
The museum will be open everyday in July &amp August and is a scenic diversion off of the sunrise trail. Hope you enjoy your stay!
---
Back to the Home Page